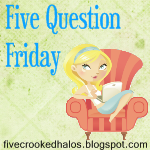 1. Do you think cursive writing is overrated? (Schools in Indiana have now voted to take teaching cursive writing out of their curriculum.)
I remember learning to write like that in school.  Some kids had a harder time with it.  I personally think in some situations it looks nicer.  For the most part though I just print.  If they stop teaching it in schools though cursive writing will be a thing of the past and the younger generations will most likely not learn it.
2. Do you still use a pocket calendar or notepad or do you keep your info on your smart phone?
I keep all the information I need on my smart phone.  I love andriod <3  You can keep track of so many things.  The market place is HUGE and has apps for just about anything you can think of.

3. What 3 things would you save if your house was burning down? (family & pets are already safe)
Well since the family & pets are already saved.  I think I would have to go with my purse because my cell phone, all out id's & some make-up is in it.  The computer because it has pretty much has ALL our pictures on it. Hmmm guess a bag of clothes for the kids.

4. Country Mouse or City Mouse, err Person?
I live in the city right now,  I guess I would go with that.  I like having everything close by.  The winters don't seem to be as bad.  In the summer though I do miss the country a bit because of all the beaches, fresh air, relaxing, etc…

5. If you could pick ANY reality show to go on, which would you pick?
The only reality show I watch is Jeresy shore.  If I didn't have kids I would love to be on it. haha.  Paid to party pretty much…Otherwise I don't know what I would go on.