Avanti Wet-Dry Nano-Titanium Ceramic Silver Digital Flat Iron
|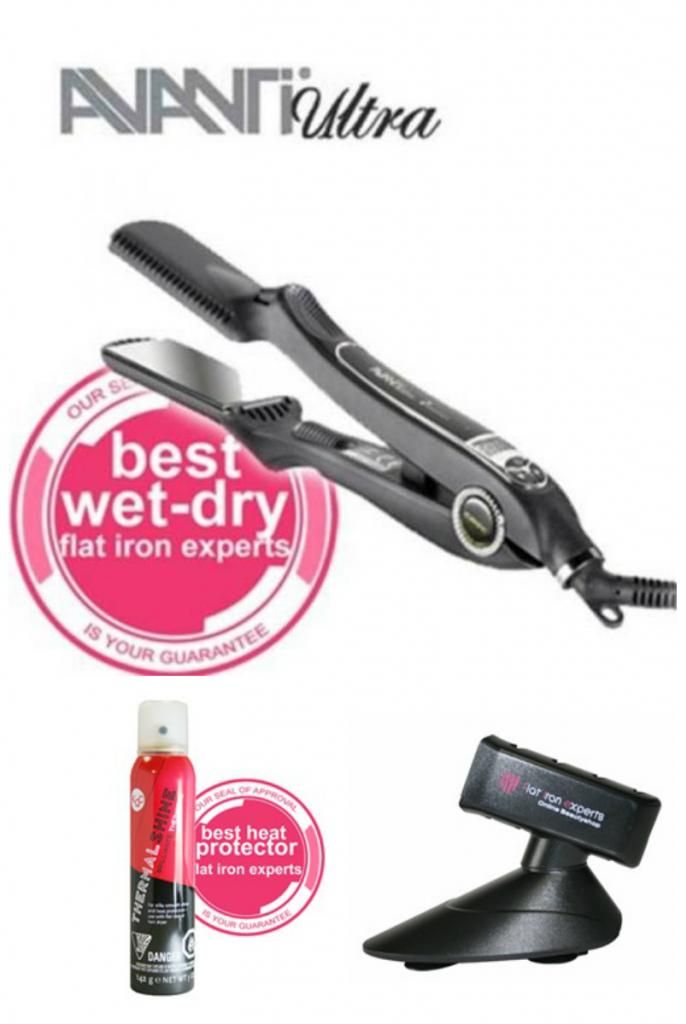 Still looking for the perfect gift for someone who is beauty obsessed? Or maybe you need to treat yourself.  The Avanti Wet-Dry Nano-Titanium Flat Iron would make a perfect gift for any lady.  I recently had the chance to try it and see how well it performs.  I'm someone that has naturally curly hair, but prefers to straighten it.  Over the years I've used many different ones in different price ranges that have had different type plates.  This one is truly the best flat iron I've used recently and of course I would recommend it to any friends, family or readers.  Want to learn more about it? Continue below.
Quick Run Through
Light weight (0.88lbs)
Digital screen
Heats up to 450° F in seconds
Nano Titanium / Ceramic Technology
Works on wet/damp hair
Choose between Fahrenheit or Celsius
360° swivel cord
Fits into Flat Iron holders
You turn the Avanti Wet-Dry Nano-Titanium Ceramic Silver Flat Iron (whoa it's a mouth full, but so worth it) on by holding the power button for a couple seconds and then you can set the temperature to your preferred heat setting.  I tend to keep it in the 300's, but have used it on the highest setting without any problems.  This can be used on dry and wet hair.  I've personally used it on damp towel dried hair & Dry hair.  Both have had great results.  If you're like me with naturally curly hair and you like to have it straight the Avanti Wet/Dry Straighten will be a great choice and can help you cut down time on your hair.  Before using any heat on your hair it's always a wise choice to use a heat protection to help protect your hair from the high heat it will be dealing with.  A great choice that I currently use is KQC Thermal Shine.  It adds shine and provides heat protection when using flat irons and hair blowers. It can be used on wet or dry hair and you style as you normally would without any worry of residue being left behind.
I love that even after everything my hair has been through the high heat blow dryers, flat irons, bleach, etc. my hair looks and feels healthy after using the Avanti Wet/Dry Flat Iron.  It helps close your hair cuticles leaving you with a smoother finish and leaves you frizz free all day.  I can get my hair fully straightened in no time at all and be confident that my hair will hold it's style for the day.  It has a 360° swivel cord which is great and the cord is long enough that you have some working room.  Once done I power off by holding the same power button for a couple seconds and place it back in the flat iron holder.  It also has an auto shut off just in case which will automatically turn off after 60 minutes of inactivity.
What Does It Do For Your Hair?
Nano Titanium/Ceramic Technology: Is what the plates of the flat iron are made of.  This martial helps distribute the heat evenly across the plates so, there are no hot spots.  Ceramic is known to emit negative irons and infrared heat. This all helps to preserve moisture in your hair.  Eliminate frizzy hair leaving it smooth and shiny and it causes less damage to your hair.
Nano-Silver: Silver ions & silver compounds have been shown to be effective against some bacteria, viruses, algae and fungi.  Silver is also great for reducing friction when styling hair.
Negative Ion Technology allows the hair cuticle to close leaving your hair looking healthier and smoother.
Flat Iron Experts Currently has it on sale for $159.95 with free shipping and comes with a 1 year warranty